Production
Chocolate coated dried plum with walnut, 200 g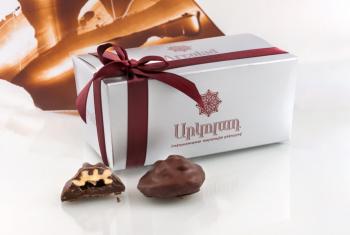 Ingredients: dried plum, dark chocolate (cocoa mass, sugar, cocoa butter, emulsifier: soya lecithin, natural vanilla flavouring), walnut. Total dry cocoa solids in chocolate: 55 %.
Nutrient value for 100 g: proteins 5.6 g, fats 23.2 g, carbohydrates 45.5 g.
Energetic value: 428 kcal/1791 kJ.
Store in a cool and dry place at temperature of (18±3)°C, in conditions of not higher than 75 % of relative humidity. Keep away from direct rays of sun.
2 280 dr.
Back to the List
Also Recommended